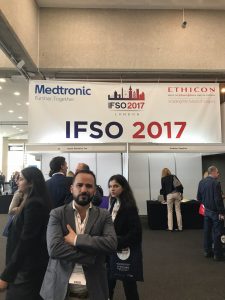 Mexico Bariatric Center (MBC) surgical staff is continuously broadening their knowledge by attending the National and International seminars related to metabolic and obesity surgery. Two of the lead MBC bariatric surgeons, Dr. Louisiana Valenzuela and Dr. Ismael Cabrera, are attending the 22nd World Congress of the International Federation for the Surgery of Obesity and Metabolic Diseases held 29 August – 2 September 2017 in England, UK. IFSO 2017 brings together world leaders in metabolic and bariatric surgery, including Ethicon (products and services of Johnson & Johnson Medical) and Medtronic (a global leader in medical technology, services, and solutions).
England was chosen for the World Congress of IFSO in 2017 because it is one of the most prominent political, financial, and cultural centers globally. With 5 world-class medical schools and over 8000 medical companies, England is the right for IFSO 2017.
Previous Seminars Attended by MBC's Surgeons
Here is the list of prior year IFSO meetings MBC surgeons attended:
IFSO 2010 – 15th World Congress of International Federation for the Surgery of Obesity & Metabolic Disorders – Long Beach, Los Angeles, California September 3th – 7th, 2010.
IFSO 2014 – 19th World Congress of International Federation for the Surgery of Obesity & Metabolic Disorders – Palais des Congrès de Montréal in Montréal, Québec, Canada August 26th – 30th, 2014.
IFSO 2015 – 20th World Congress of the International Federation for the Surgery of Obesity and Metabolic Disorders – Vienna, Austria August 26th – 29th 2015
Dr. Valenzuela, Dr. Cabrera, and Dr. Gutierrez just attended the XIX International Congress of Surgery for Obesity and metabolic diseases from June 28 to July 1, 2017, in Playa del Carmen, Quintana Roo. They participated in the academic program of pre-congress courses, transcongreso courses, and symposiums. The congress also analyzed the best surgical options in obesity surgery and revision and the management of complications and evaluated the long-term results of bariatric procedures.
Our Surgical Teams Utilize Cutting-Edge Equipment
Obesity is a global threat as nearly 30 percent of the world's population (2.1 billion people) is overweight or obese. Bariatric surgery is a life-changing treatment to rid of obesity and its life-threatening diseases. Improving the surgical community's access to the most recent techniques, advanced technology, and surgical tools help deliver the best outcomes. One of the products presented in this congress worth mentioning is the ECHELON FLEX™ GST System from Ethicon. This system is associated with a significantly lower rate of bleeding and complications. MBC surgeons are on the cutting edge of bariatric technology and are using the latest tools and devices.
Staff Staying at the Forefront of Bariatric Industry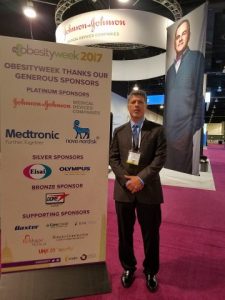 Ron Elli, Ph.D., director of MBC, has been in the medical tourism industry for over 10 years. He has been focusing on weight loss surgery in Mexico. Dr. Elli is certified by the Medical Tourism Association (MTA) and has been attending all the National and International obesity-related seminars and conferences. Dr. Elli was an attendee of the 34th ASMBS Annual Meeting at Obesity Week 2017. Obesity Week is an international conference bringing together world-renowned experts and industry leaders in the field of obesity. This event took place at Gaylord National Resort & Convention Center, Washington, DC, from October 29 – November 2, 2017.
Mexico Bariatric Center Committed to Advancements in Bariatrics
As a leading medical tourism facilitator in Tijuana, Mexico, Bariatric Center is committed to metabolic and bariatric advancements. MBC offers reliable and affordable all-inclusive packages for patients in U.S. and Canada. MBC surgeons can handle any gastric procedure, such as gastric sleeve, gastric bypass / mini bypass, duodenal switch, gastric balloon, and revision of failed surgeries.
MBC Educates Public About Bariatric & Metabolic Surgeries
Mexico Bariatric Center has helped hundreds of Canadians to get obesity surgery to avoid long wait time and save money. MBC offers yearly seminars in different provinces of Canada (British Columbia, Alberta, Saskatchewan, Ontario, Quebec, Nova Scotia, etc.) to educate patients about the benefits of surgical treatment of obesity as a long-term solution. Check out the next seminar coming to your neighborhood.