Canadian Obesity Epidemic and Bariatric Treatment of Obesity
An epidemic of obesity is a chronic disease, similar to LDL cholesterol, spread globally including Canada. It is associated with excess body fat and is considered a Body Mass Index (BMI) of over 30.
Obesity can affect and threaten one's health. Obesity can include type 2 diabetes, high blood pressure, heart disease, stroke, arthritis, sleep apnea, fertility problems, gout, and cancer. Canadian people who are overweight are also being shortchanged by lingering stigma and bias.
According to a recently published report, 20% of Canadians over 18 (about 6 million adults) and 6% under 18 are obese. The obesity rate is also alarming for children and 1 out of 10 is obese. Both overweight and obesity are more common in males than in females.
Canada's obesity issues have been growing steadily, and in some respects mirror the United States' rates. Currently, 61.1% of Canada's adults are either overweight or obese (compared with 66.6% of the United States' adult population). The obesity rates are currently costing the economy roughly $4 Billion per year.
Currently, Canada ranks the 35th on the list of fattest countries (Forbes). And currently, researchers are predicting disaster in the coming decades: that 70% of 40-year-olds will be overweight or obese. This number is staggering and alarming.
Obesity from 1978 to 2004
In 1978, 49% of adults over 18 are overweight or obese. In 2004, 59% of adults over 18 overweight or obese.
In 2011, more men vs. women were obese and overweight. Statistics show that 40% of men and 27% of women were overweight. 20% of men and 17% of women were obese. It's also noteworthy that women are twice as likely to be morbidly obese as men are.
Bariatric Surgery
In order to stop the growing obesity epidemic, many family physicians are suggesting patients undergo bariatric surgery. Patients who have tried and failed to lose weight with traditional methods can undergo weight loss surgery.
Today, gastric sleeve surgery is known as sleeve gastrectomy. It is the top choice of bariatric surgeons in Canada, the United States, and Mexico. Learn what makes sleeve gastrectomy so appealing.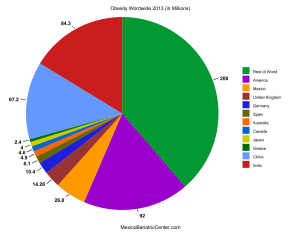 The only proven long-term solution to cure obesity and obesity-related diseases is weight loss surgery. Surgery improves weight as well as overall life expectancy. Not to mention the cost of health care and lost productivity (estimated at $7.1 billion – 2016).
Most of the Weight loss surgery procedures are covered almost in all of Canada by Jurisdictional Health Care Plans. All are offered by the individual provincial government. However, the waitlist is too long (2 to 15 years). Atlantic provinces, in general, lag in access to bariatric surgeries.
Bariatric Procedures Covered by Province
PROVINCE

PROCEDURE

WAIT TIME

REIMBURSEMENT

British Columbia
(MSP)

Sleeve & Bypass

3 – 5 years

No

Alberta
(AHCIP)

Band & Sleeve & Bypass

7 – 10 years

Yes

Saskatchewan

Sleeve & Bypass

2 – 3 years

No

Manitoba

Sleeve & Bypass

N/A

Yes

Ontario
(OHIP)

Sleeve & Bypass

2 – 3 years

No

Quebec

Band & Sleeve & Bypass

3 – 15 years

No

Newfoundland & Labrador

Band & Sleeve & Bypass

N/A

Yes

Nova Scotia

Sleeve

3 – 5 years

Yes

New Brunswick

Band & Sleeve & Bypass

3 – 5 years

No

Prince Edward Island

Sleeve & Bypass

N/A

Yes
* Yukon and the Northwest Territories do cover bariatric surgery but patients are referred to an affiliated province.
** Nunavut does not cover bariatric surgery
*** Non-invasive Intragastric Balloon is not covered
There are experienced and qualified surgeons available in Canada. The capacity of surgical treatment of obesity has increased as well. There were 6500 bariatric surgeries were performed in 2013-2014(4 times more in 7 years).
However, a very small percentage of eligible patients are offered surgery with an average waitlist of 5 years across the country. Canadian clinical practice guidelines for bariatric surgery qualifications are:
Individuals who have tried to lose weight by lifestyle modification (diet and exercise) and have not been successful
BMI of 40 kg/m2 or higher or
BMI of 35 kg/m2 or higher and
Obesity-related comorbidities such as type 2 diabetes, high blood pressure, arthritis, or sleep apnea
If one doesn't want to wait to get the covered services(2 to 15 years). They can follow the viable options below:
Get the surgery done in a private clinic in Canada. Two-thirds of bariatric surgeries are done in private-pay facilities compared to one-third in public facilities. You can pay cash or finance the surgery cost.
One can do it in their province or outside of your province. They can get it reimbursed by insurance (most likely the surgery itself only).
Go through top medical tourism companies like Mexico Bariatric Center. Based on the province you are in, you may be able to get reimbursed by the insurance (the surgery itself only).
Mexico Medical Tourism
Many patients from Canada start their journey to a new life with Mexico Bariatric Center (MBC) and change their lives forever. Patients from Canada opt for surgical treatment of obesity and give themselves a second chance in life.
Learn more about undergoing weight-loss surgery by visiting these pages on major cities in Canada.
Ontario
British Columbia
Alberta
Alberta Health Care Insurance Plan (AHCIP) covers weight loss surgery for extremely obese patients with medical complications. The approved procedures are adjustable Gastric Band(band surgery), Gastric Sleeve surgery, and Gastric Bypass surgery. However, the wait time is 7 to 10 years and not everyone qualifies.
To avoid the long wait time, the patients in Alberta have been taking advantage of Medical Tourism through Mexico Bariatric Center. By doing this they avoid a high cost of surgery or getting qualified under the guidelines. AHCIP even reimburses the surgery part of the bariatric procedures toll-free.
Mexico Bariatric Center has been actively educating and providing bariatric services to the province of Alberta. In 2016, MBC staff alongside MBC's CEO, Ron Elli, Ph.D., and Dr. Louisiana Valenzuela held an informational seminar in Edmonton.
In 2017, the MBC crew directed by Ron Elli, Ph.D., and Dr. Louisiana Valenzuela traveled to Calgary. They educated patients about obesity and obesity-related disease. The seminar also emphasizes after-care. We do this to help patients establish the amount of food they eat and exercise for long-term weight loss success.
Manitoba
Quebec
Saskatchewan
Saskatchewan Weight Loss Surgery
Nova Scotia
New Brunswick
New Brunswick Weight Loss Surgery
Newfoundland and Labrador
Newfoundland and Labrador Weight Loss Surgery
Prince Edward Island
Prince Edward Island Weight Loss Surgery
Northwest Territories
Northwest Territories Weight Loss Surgery
Yukon
Yukon Weight Loss Surgery
Nunavut
Nunavut Weight Loss Surgery