Surgical Treatment of Obesity – Edmonton, Alberta, Canada
Weight Loss is not something that comes easily to most people. Those individuals that are obese may suffer from health problems relating to this weight gain.
Obesity can cause a number of health problems that could lead to severe illness or even death. Getting a handle on weight is essential to living a longer and happier life. For individuals that haven't been able to manage the task on their own, there are other options.
Weight loss surgery can be the answer for many individuals that need help getting started in the right direction. The Canada Medical Association Journal reports that obesity causes 1 in 10 premature deaths among Canadians aged 20-64 years.
Gastric Sleeve Surgery
Sleeve gastrectomy surgery is a modern weight loss laparoscopic procedure. The process involves removing about 85% of the patient's stomach and leaves a sleeve-shaped tube of a stomach remaining.
Individuals can eat about one ounce per meal once the surgery has been completed, which is about half a cup of solid food. The majority of the hormones which stimulate the feeling of hunger produced by the stomach are also removed in the surgery, which leads to eating less. Also, with the smaller stomach, the individual eats less because they become full faster, and then will begin to lose weight rather quickly.
The anticipated weight loss from a sleeve gastrectomy surgery is between 60 and 80% of your extra weight. This means most patients lose less weight than individuals undergoing gastric bypass surgery, but more than those who use gastric banding. Most people who undergo a sleeve gastrectomy surgery weight too much for other forms of weight loss surgeries, and are likely to require a second type of weight loss surgery once the initial weight is lost with the sleeve procedure.
Who is a Candidate for Gastric Sleeve?
For people who have been unsuccessful at losing enough weight to become candidates for gastric bypass surgery, Roux-en-Y or biliopancreatic diversion weight loss methods, the gastric sleeve is a method that can be used to drop the excess weight to become eligible for the other surgeries.
Gastric Bypass Surgery
One of the more permanent weight loss surgeries of choice is gastric bypass surgery. In gastric bypass surgery, the professional will divide the stomach into two parts surgically. After this has been completed a shortcut or bypass is created between the upper stomach and the lower intestines.
Food is forced through the system faster and the body will absorb fewer calories than a normal system. In addition, the stomach is now smaller and will hold far less food making it harder for a person to overeat.
Who is a Candidate for Gastric Bypass?
The person that is the right candidate for the gastric bypass surgery will be of fair enough health to withstand the surgery and be obese to the point that there is health risks and concerns. The individual will have tried other avenues of weight loss unsuccessfully and have been considered by a physician for this type of surgery.
Gastric Banding Surgery
Some individuals are better suited for gastric banding surgery. This type of surgery is the process of placing a band around the stomach so that it essentially makes the stomach smaller.
This reduces the amount of space in the stomach to hold food. It means the individual will need to eat less food and be more particular about the type of food that they are eating. The band is temporary and can be adjusted from the exterior of the body with a device if necessary.
Who is a Candidate for Gastric Banding?
The best candidate for gastric banding surgery is one that has tried other weight loss options with no success. They should have fair overall health to handle the surgery itself and be prepared for the changes that will occur in their ability to eat certain amounts and types of foods. The candidate should be in agreement that they will need to combine actions such as a new outlook on food and an exercise plan in order to see success.
What to Expect After Surgery
While every patient responds to surgery differently, there are a few things of similar nature that should be expected. Typically in insertion area is sore for several days and the patient should watch for signs of any infection. They may feel as though they have an upset stomach for days after the procedure and they might feel some discomfort from the procedure.
Individuals should expect that they will not be able to eat as much as they did before and many foods they are used to eating might make their stomach upset. Taking the time to make sure that you get the right foods in your body will be essential as you are limited to the amount of space that you have to work with.
Those that suffer from obesity understand the health risks that they face and they likely are extremely uncomfortable with their own body. Finding a professional to discuss the options with is the first step in getting the help necessary to change your weight. There are several to choose from in the Edmonton area and you will want to choose the best for your situation.
Adult Obesity Rates in Edmonton (Alberta)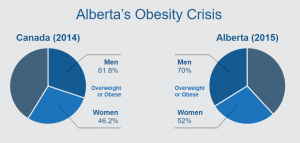 Alberta has more overweight and obese patients than the national average. According to stats in 2014, 67% of adults are overweight or obese – with 39% being overweight and 28% being obese in Alberta. Both overweight and obesity are more common in males than in females. The rates are more prominent in north and south zones and are lower in Edmonton and surrounding communities.
A new report shows the rate of overweight and obesity rate is falling in children in Canada. The rate is falling faster in girls than boys ad children than teenagers. Mexico Bariatric Center has been educating Canadians about obesity and its related problems through seminars and webinars. MBC offers quality and affordable weight loss surgery options in Mexico for Canadians to rid of the obesity epidemic and get a new start in life.
About Edmonton Alberta
Edmonton is the capital of Alberta province, situated on the North Saskatchewan River. The city of Edmonton is a stage for oil, gas, and oil sands projects as well as diamond mining operations. According to the 2016 census, the population of Edmonton is recorded around 900,000. According to the 2017 WealthScapes report, Edmonton, Alberta is the 8th wealthiest city in Canada with an average household net worth of $816,716.
Edmonton climate is fairly dry with average daily temperatures range of 13.3 °F (min 5.4 °F) in January to 63.9 °F (max 73.6 °F). With 17 hours of daylight/day in June and 2300 hours of sunshine a year, Edmonton is one of Canada's sunniest cities.
West Edmonton Mall (WEM), located in Summerlea, is the largest shopping mall in North America and was the world's largest mall until 2004. The mall was founded by the Ghermezian brothers, who emigrated from Iran in 1959, and offers exclusive shopping, fine dining, exciting entertainment, and luxury accommodations all under one roof.
The city owns several professional sports teams, including the NHL ice hockey team, Edmonton Oilers. In recent years, there has been an intense and passionate rivalry between the Edmonton Oilers and the Calgary Flames.
Jasper National Park
Jasper National Park, in the province of Alberta and west of Edmonton (just 3.5 hours drive), is the largest national park situated in the Canadian Rockies. The park is known internationally for its:
Wildlife – Animals like bears (Grizzly & Black), moose, caribou, bighorn sheep, and wolves
Outdoor Activities – hiking trails and skiing
Attractions – glaciers, hot springs, emerald-color lakes, and waterfalls
Athabasca Glacier is one of the main toes of Columbia Icefield, the largest icefield in the Rocky Mountains. Columbia ice field is considered to be on top of a triple Continental Divide, feeding three different oceans: the Arctic Ocean, Hudson Bay (the North Atlantic Ocean), and the Pacific Ocean. The ice explorers take tourists to the Athabasca Glacier.
The glaciers appear blue as large quantities of compressed ice without oxygen absorb other colors more efficiently than blue. The Emerald color of the water in lakes and rivers is caused by rock flour (fine particles generated by the erosion of rocks by glaciers).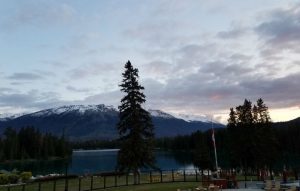 About Mexico Bariatric Center
Mexico Bariatric Center (MBC) is one of the top facilitators of weight loss surgery in Tijuana, Mexico. MBC has been at the medical tourism forefront in Tijuana, Mexico since 2012. With highly trained staff as well as four skilled and experienced certified surgeons, Mexico Bariatric Center offers quality and affordable gastric sleeve packages in Tijuana, Mexico.
Mexico Bariatric Center is the only medical tourism company that offers free-of-charge educational seminars in U.S. and Canada. MBC has been in Edmonton, Alberta twice in 2016 and 2018 already.
Bariatric Surgery Providers for Edmonton
Mexico Bariatric Center® (MBC)
855-768-7247
Champion Weight Management
346 Mayfield Common
Edmonton AB T5J
780-443-0610
Royal Alexandra Hospital
CSC Bldg., 4th Floor
10240 Kingsway Avenue NW
Edmonton, AB T5H 3V9
877-414-2665
www.alberthealthservices.com
Dr. Philip C. Mitchell
Suitor House, 1004 8th Ave. SE
Calgary, AB
403-264-6720
Other Alberta, Canada Weight Loss Surgery:
More Reading: